A Clean, Crisp and Efficient Website
Website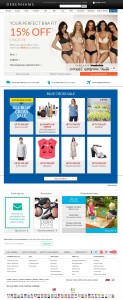 With Debenhams.com the very first thing I notice is how crisp and efficient the website is. Fashion aside it is very easy to navigate and very well organized. Simply hitting the landing page and not scrolling gives you the most important information for e-commerce customers. You see all of the most relevant events and sales and the most relevant delivery information. That seems to be a common theme with Debenhams the information you want and need doesn't require digging their system is very efficient which allows you to get right down to the business of getting those items you really want.
The website has every relevant tab right there for you and has very specific (again efficient) subcategories to choose from. The site isn't flashy or trendy its very basic in its approach, however it completes the task of making your shopping experience more enjoyable flawlessly.
One of the major differences I've noticed with Debenhams as compared to some other outlets is that Debenhams doesn't seem to be trying to push a trend on you or to tell you what you want, but rather show you their deals and show you everything on offer and make your experience simple. This clean approach is refreshing to see.
When it comes to actually viewing and buying the products there isn't anything exceptionally flashy as far as how you can view the products is concerned, but again the one thing that has to be said is efficiency, efficiency, efficiency. All of the most important information is available, on several items they'll keep you up to take on stock levels and I believe most importantly the site doesn't get bogged down by too many pictures. They aren't overselling themselves and I like this.
Discounts
Debenhams offer usually coupon codes with required minimum spend. Currently there is for example this one:
BRA15

– 15% off your lingerie purchase if you spend £30 or more. For more codes, click here.
Also, Debenhams is currently having a Blue Cross Sale that has up to 70% off on selected items with a load of things to choose from. You can currently get 20% off all school uniforms if you purchase online.
Debenhams has a rewards card and a gold membership that allows you to get several benefits at the store including free standard shipping (UK members only!).
Shipping
For UK customers standard delivery is free on orders greater than £30 otherwise costs £3.49 within 4 business days. Gold members get free standard delivery regardless of minimum. Next Day Delivery (or choose a day delivery) costs £3.99. Next Evening Delivery (or choose an evening delivery) costs £6.99.
For all international customers delivery costs range from £7.00 – £15.00 and your package will be delivered within 5-14 business days.
Customer care & returns
Debenhams offers a courier service for their returns. If you're living in the UK you can simply have them come pick up your order and they will return it for you. All of their policies are clear and concise.
All orders (except for a select few items) are trackable and returns are also trackable from the website.
Summary:
All in all the website is very accessible, fast, clean and elegant in its design. It is very easy to find what you're looking for without too much flash or a lot of pictures/animations that really draw your attention away from what you're looking for. The deals are pretty good especially now with the current 70% off sale. If you do encounter problems or need a return all of the information is available and they offer hassle free returns at your discretion so you can't go wrong!
The Reasons to Shop with Debenhams.Com (Pros):
+ Organized Website Very User Friendly
+ International Shipping for a low rate
+ UK shipping with schedule a delivery
+ Very solid and regular sales on a plethora of items of all types
The Reasons you might avoid Debenhams.com (Cons):
– Rewards program only available for UK customers
– Shipping benefits for gold members only apply to standard shipping
– No expedited shipping for international customers