ASOS.com – A Fashionista Favorite
Website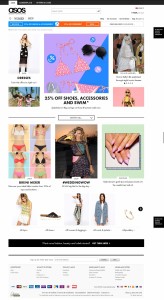 ASOS.com is a very unique fashion website, one that you find yourself spending hours on without realizing it. It is much more than a typical fashion shopping site. There are lots to do and can be easy to get lost.
The site is broken up into two major tabs: ASOS (where you shop), Marketplace (where you can sell or buy fashion on consignment).
On the ASOS tab, you can shop in a variety of ways. You can focus on just the ASOS brandclothes or you can shop by different brands. You can also do both. Highlighted promotions can be viewed at the top. If you are looking for something specific, such as a pair of party shoes, you can find the department in either the women or men's tab. From there you can further filter your options to what you are specifically looking for.
Compared to many other fashion shopping sites, trying to find what you are looking for is not intuitively obvious and takes a bit of surfing to find. You can easily get distracted with the fashion and celebrity news as well as their trend watch articles.
An especially unique feature in this site is that not only do they have great images of each clothing item, but you can also watch a model walk down the runway in that very same piece.
This is great if you want to see how the fabric flows and moves. I also like that they give you what said model's size and height. That way you can better gage if that item is going to work for you.
Discounts
They offer many various discount codes every month, but most of the codes are country or account specific. That means that you can use only the code which has been created for you or your country.
There are 3 types of their promo codes
shop and save codes – when you have to spend a certain amount to get a discount
full-price items discount only – these codes don't work on sale items
express shipping codes – useful if you want to get free express or next day delivery
Shipping
US standard shipping is free and trackable. It will take about 6 days to receive order, possibly longer if orders are over $200 because they may be subjected to a customs clearance. As soon as you place an order, ASOS will send you tracking information once your shipment has left their warehouse. ASOS is a global fashion site, so international shipping is offered as well.
Customer Care & Returns
I have never had a problem with any of my purchases but should you run into a problem you can e-mail them directly or contact them via Facebook or Twitter. They can help you with any problem you have from changing an order, provide you better information on their size guide and care instructions to help tracking your order.
Their return policy is fantastic.
You can return any item for a full refund within 28 days of receiving your original order. Each shipment has a returns note included just in case, so all you have to do is fill it out and send the parcel back to them. There is no extra cost to ship back your item if you are in the US.
Summary
ASOS is a fun site to shop but it is definitely intended for the shopper who loves peruse. I wouldn't recommend this site if you wanted to do a quick buy because you can get distracted easily by the multiple content they post. I would recommend this site to all my friends who are really into global fashion and love keeping up with trends.
Pros:
+ Good for fashion trends
+ Market place
+ Nice pictures of products + videos
+ Discounts
+ Ability to ship internationally
Cons:
– Strict discount codes policy